'60 Austin Healey 3000 BN7 – SOLD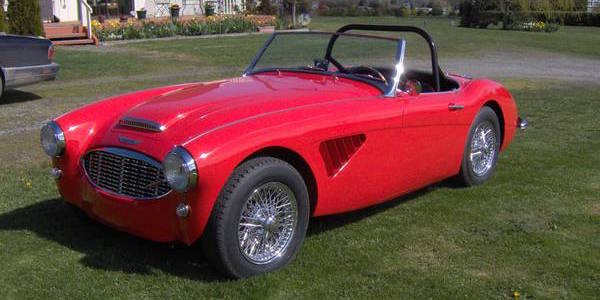 Gorgeous fully restored, 2 very long term California owners (49 years between the 2) still on its California black plates, with OD a very rare 2 seat BN7 it has been slightly tastefully upgraded, with triple Weber side drafts & hot cam, custom built header, has a rear suspension roll bar (custom) also custom vents in the front wings, all the upgrades are very well done, I have all the original parts to take back stock (all the carbs and linkages) it has fresh chrome, the car drives and sounds great, a real British sports car, take a look at the photos, all of the ones of the engine bay, and underneath I just took, so it has 6 years worth of use since I cleaned it all up underneath, it is actually very nice, but could certainly use a good detailing. The car still looks fantastic, this is an investment grade car, feel free to call with any questions that you might have. Contact details.
---
'53 Maserati Barchetta sports racer – SOLD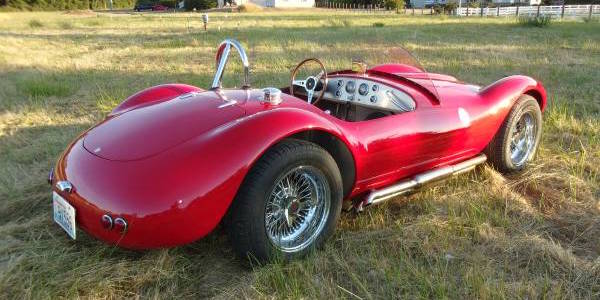 Hand built super car, this is car #6 of 7 cars that I built, this is completely custom hand built, super high performance, show car, some of the basics, 1600lbs, perfect 50/50 weight distribution, ZF limited slip differential, 3.5 liter all aluminum V-8, (Rover) 4 double barrel downdraft Webers, stainless steel headers and 4 side pipes, custom built frame, all custom build suspension front, adjustable unequal length A arms, coil over shocks, rear is live axle ZF limited slip with adjustable 4 bar with Panhard rod and coil over shocks, full aluminum monocouqe, fiberglass body pulled from correct Maserati, absolutely stunning performance 0 to 60 in about 4 secs. I built this car for a local car collector 15 years ago, it has had a very pampered life, it has been sitting in a heated, carpeted, private museum between a BMW 507 and a 67 GTB 4 cam., and only has 1300 miles on it. It also has some very nice details on it, it is the only one built with a biscuit colored seats, it has Lucas TRI Bar headlights, and Maserati tridents on the gauge faces. It is still stunning. Click here to see details of construction, and specs, etc. Feel free to ask questions, I am the builder. Contact details.
---
'66 Jaguar XKE roadster, beautiful – SOLD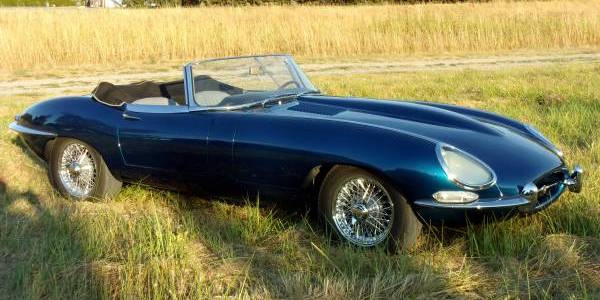 Stunning series I Jaguar XKE convertible, a truly iconic car, cosmetically restored, fresh paint and chrome, and seals, dark blue (Jag color, but not the original) a numbers matching 39K miles (believed to be original). I bought this car 6 years ago, for a local collector, is was a restored car at that time, however it was not up to our standards (a few shortcuts had been taken) so I took all the chrome off and re-chromed, I replaced the driver side rocker with factory part (this is a common troubled area due to the battery location), we replaced both door skins, and the trunk lid, as they were done poorly, I dropped the differential assembly out and replaced the bearings and seals, I installed new stainless exhaust down pipes (the rest of the system was already stainless), we repainted the whole car (the same color as when we got it), we did a lot of thinking about changing the color back to original, but the color on it, is so stunning. It is a gorgeous dark blue with 2 different pearls and metallic, it is off a 1990's Jaguar, I also replaced all the rubber seals and installed a new windscreen. All this was done 6 years ago. I most recently (Summer 2015) rebuilt the carburetors, and installed new steering rack and ball joints and correct tie rod ends. It has a beautiful black German canvas top, with all new seals. This is a fantastic driving E Type, needs nothing, it is absolutely gorgeous, the engine is beautifully detailed, and very strong with fantastic oil pressure and pulls like a train. Just take to car shows and start winning trophy's, this is a investment grade automobile that are steadily climbing in value. Hagerty value guide says this is a $200+K car. Feel free to call me with any questions that you might have. Contact details.