References
The contact information of the following references are available upon request. We ask that you start a dialogue with D & B Enterprises first if you are interested in making a connection with them.
---
Car: #001 (the Prototype)
Owner: Douglas P. Bates
Occupation: Attorney at Law
Auburn, New York
Engine: Mild Rover V-8 3.6 L (approx. 220 BHP)
Color: Ferrari Rossa (Red)
Doug drives his car extensively when the weather allows. "Once you see it, no other car will do." To quote his wife: "If it's dry, I know he'll be gone until dark."
---
Car: #002
Owner: Dr. Enrique Suarez
Occupation: Head of Ophthalmology Department, Centro Medico Docente La Trinidad Caracas, Venezuela
Engine: Built Rover V-8 3.6L (approx. 270 BHP)
Color: Ferrari Rossa (Red)
Dr. Enrique Suarez is a world renown eye surgeon, having performed more LASIK procedures than any one in the world. People travel from all over the world to have their surgery performed by him. If you need eye surgery, he is the man.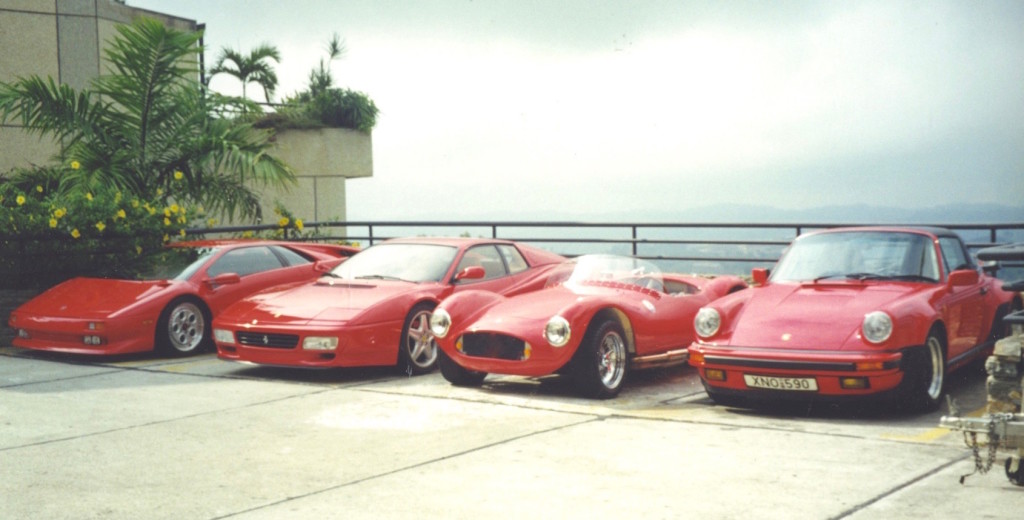 He is also a serious car collector, his sports cars include a Lamborghini Diablo, Ferrari 512 TR, Porsche 911 Turbo. Enrique tells us that the Barchetta 3500 gets more attention than any of his other cars, including the Diablo.
---
Car: #003
Owner: Lon Packard
Occupation: Attorney at Law
Salt Lake City, Utah
Engine: Built 383 cu in Chevrolet (approx. 455 BHP)
Color: Ferrari Rossa (Red)
Mr. Packard is a very serious lawyer who works with the Federal Justice Department to prosecute large contractors who defraud the Federal government ($600 Hammers and so forth). Lon tells us he has serious scratches in the aluminum dash board, from his partners hanging on for dear life, when he takes them for a "little ride."
---
Car: #004
Owner: Mr. Ron Tonkin
Occupation: Car Dealer
Portland, Oregon
Engine: Built Rover V-8 3.6L (approx. 270 bhp)
Color: Ferrari Rossa (Red)
Mr. Tonkin is a well known car dealer with 11 dealerships in Oregon and California including one of the oldest Ferrari dealerships in North America. He is a former president of the N.A.D.A. and a very serious car collector. His personal collection numbers 44 cars, of which 25 are Ferrari's.
Mr. Tonkin displays his Barchetta 3500 in his Gran Turismo showroom (with Ferrari, Lotus, and Vector) as it attracts peoples attention and gets them in the door. We're told by his salesmen that "the Barchetta 3500 is the first car that people want to look at once they walk in".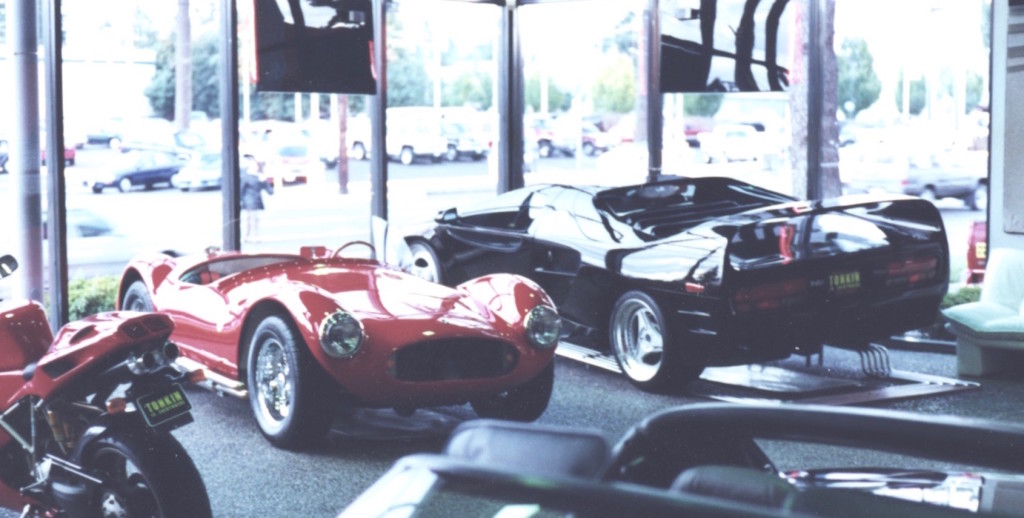 To quote Tonkin: "The Barchetta 3500 is a beautiful work of art, that looks like it should be put under glass."
---
Car: #005
Owner: Trent Gaites
Occupation: President & CEO of Sportworx
Oakwood, Georgia
Engine: Built Rover V-8 4.6L (approx. 330 BHP)
Color: Ferrari Rossa (Red) with twin white stripes
Mr. Gaites is an avid exotic car enthusiast and the founder of Sportworx, North America's premier sports-risk prize insurer. They organize, promote, and then insure the prize, at hole in one (golf) or half court free throw (basketball) contests, and the like. Visit sportworx.com to learn more.
Sportworx does a lot of trade shows all around the country (Baseball Owners Assoc., N.A.D.A., Golf Course Owners Assoc. etc.), and they use their Barchetta 3500 in their booth attract attention. It's not uncommon at some of these shows to have a couple of thousand different vendors all trying to get the attention of the shows spectators. Vendors use everything they can think of, free stuff, gorgeous models, celebrities.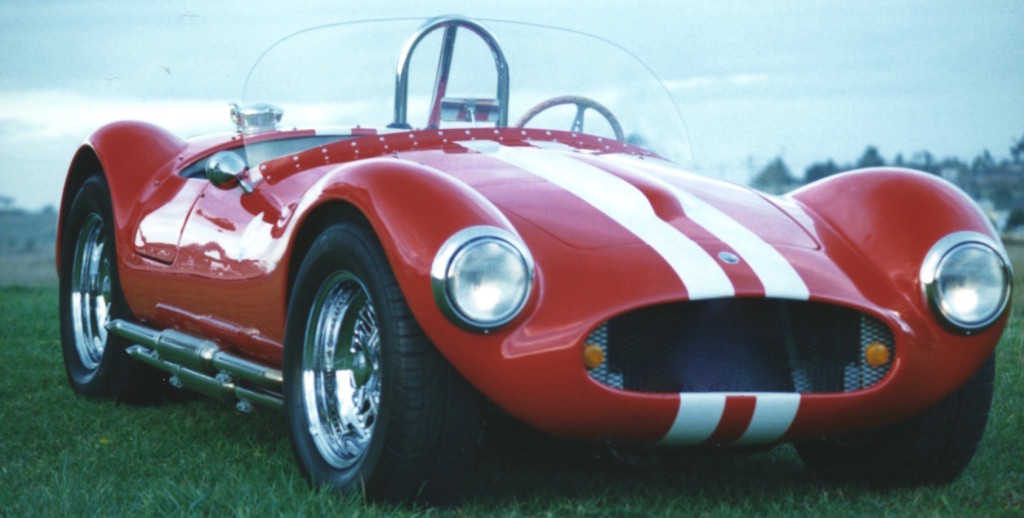 Trent tells us that his Barchetta 3500 "stops them dead in their tracks," then all he has to do is reel them in. In fact, he's thinking of starting a side business of renting out his Barchetta 3500 to vendors at other trade shows; Trent was approached by someone who saw the success of having his car at the trade show, and then rented it out for $8,000 for a 3-day show in New York. Talk about a show stopper.
Trent's car was extensively optioned to his wishes, including:
Twin white stripes
Big Rover motor (4.6 L) 330 BHP
Blister on hood
Driver and passenger doors
Chrome roll bar
Tonneau cover
4 tail lights
---
Car: #006
Owner: Anonymous NW Collector
Engine: Built Rover V-8 3.6L (Approx. 270 BHP)
Color: Ferrari Rossa (Red)
Car #006 is available to be seen by potential customers, contact D & B Enterprises. This automobile was optioned to its owners wishes, including:
Blister on hood
Tan leather seats and trim
Chrome roll bar
Tonneau cover
4 tail lights
Lucas TRI-BAR headlights
---
Car: #007
Owner: Gunther & Cindy Anderson
Occupation: Chief pilot for Minebea Group, Singapore flight operations
Engine: Built Rover V-8 3.6L (Approx. 280 BHP)
Color: Ferrari Rossa (Red)
To quote the Anderson's: "This car is an adrenalin rush to drive, it's like a P-51 for the road!" #007 was optioned as follows:
Blister on hood
Tonneau cover
Chrome roll bar, removable
4 tail lights
Hotter cam & ported and polished heads
Custom headlights
---